Custom Cam Grind Service.

Send us your good cam cores and we ill grind them to any spec you wish.

All headgaskets are 92mm bore size opening.

1.0mm

$325.50

1.2mm

$341.25

1.5mm

$357.00

2.0mm

$399.00

2.5mm

$446.25

3.0mm

$472.50


18RG OEM

Type

Replacement Headgasket

(non metal) $134.55
---
18RG Oil Pan Gasket Set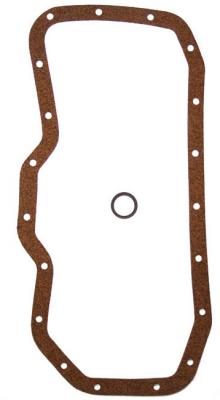 18RG Oil Pan Gasket
Set
$28.30
---

18RG Bronze Valve Guide Kit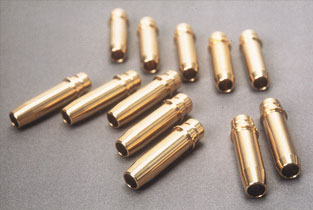 The demands of valve guides are resistance to wear and abrasion, tolerance to high temperature, and seizure.
This is only accomplished by combining two metals and precision machining of the inside of the guide. In addition these guides only allow the
minimum valve clearance so that the valves are moving properly during high RPMs. With this type, it is possible to decrease the valve clearance
by a small amount because of its efficiency at dissipating heat and resistance to sticking valves.
Price
$273.00
Specification:
Size: Intake 51mm / Exhaust 51mm
Material: Phosphorus Bronze
---
NEW!!!

18RG Titanium Valve Spring Retainers, High Performance Set
Recommended for stock and upgraded engines.
Price
$492.80
Stock Retainer Weight 21.6g
Titanium Retainer Weight 10.0g
---
NEW!!!

18RG 10,000 RPM Dual Valve Spring Set


Recommended for engines with upgraded high performance camshaft
Price
$352.00
---
18RG High Performance Stainless Steel Big Over Sized Racing Valves
(Not for use with above valve guides unless modified)
Specs.
Valve stem thickness is 8mm
Not: Must be used with over sized valve guides, spring retainers and keepers.
inquire by email for your application:
rick@toyheadauto.com
Intake size is 48mm
Exhaust is 40.5mm
(8 intake and 8 exhaust)
Generation II Valves $602.12 set. (good up to about 8,000 RPM)
Sever Duty Valves $784.10 (good up to about 10,000 RPM)
Note: Valves are a custom order and take 4-6 weeks before shipping.
---
New!!!
18RG Valve Stem Seals
High Temperature Performance Valves Seals, OEM size
Price
$157.50 USD for a set of 8.
---
Complete Clutch Kit

, 

for 

18RG

 motors. Comes with everything. Clutch, pressure plate, through out bearing,
alignment tool, pilot

 bearing and even grease!! 

 $145.00




---
18RG Aluminum Lightweight Flywheel
9.5 lb. (4.4 kg.)

New Lower Price! Price
$371.67
You will defiantly feel a gain in power with this modification.
15+ Horsepower!
- Frees up horsepower available for acceleration
- Quicker shifts
- Allows easier heel-toe shifting
- Extends transmission synchro life
- Extends engine main bearing life
- Reduces overall vehicle weight

Features:

- Has a replacable clutch friction surface so you never have to cut or resurfaced the flywheel
- SFI approved
- Awesome 6061 Aluminum construction
- CNC machined
- Heat-treated special alloy steel friction surface for excellent durability and inexpensive replacement
- Brand new starter ring gear

Aluminum flywheels are made from the highest quality 6061 T6 aluminum. The material is fantastic for strength, heat dissipation and of course reduction in weight. The friction surface we use is an incredibly strong 1050 steel. The plates are milled to meet our high specifications. This flywheel can mate with any type of clutch material, including organic, Kevlar, ceramic, metallic and sintered iron. We attach the friction surface with military grade aerospace fasteners. The ring gears we use are also made from 1050 steel and are heat treated for durability. The gears are heated then pressed on and secured with grade 8 button screws. We were the first to utilize a stepped dowel system in our flywheel. This doweling method ensures that once the pressure plate is installed the dowels cannot be removed because they become locked into place. Flywheels are designed and builds with extreme precision. We give tuners, racers and builders the high performance and unmatched power they're seeking.

Replacement Friction Plate Kit
- 1045 STEEL The friction surface we use is an incredibly strong 1045 steel.
The plates are milled to meet our high specifications.
Comes with eight button screws grade 8
Increased security helping fasten the ring gear to the flywheel and all other replacement hardware.
With these replaceable plates there is no need to replace the entire flywheel when the clutch
or flywheel is at the end of it's life, saving time and money.
Price
$59.00 USD
-----------------
NEW!!!

18RG
Flywheel Ring Gear. OEM Type
Ring Gear Outer Diameter=11.588" Inner Diameter 10.206" Pitch=10 Width=.350" Teeth=115 Chamfer=FRONT
115 Teeth
Price $75.02
---
18RG Intake Manifold Kit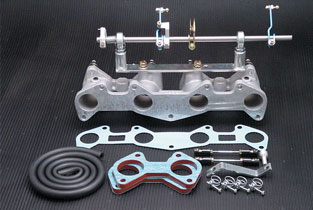 This performance intake manifold was designed with a larger cylinder diameter and made to be used with OER, Weber, Solex, Mikuni and other carburetors.
The smooth design of the ports allows increased airflow while tuning the carbs is easy with the wire type side linkage kit.

Price
$915.20
---
Carburetors
Carburetor comes as pictured
The DCOE Side draft carburetors are legends in motor sports history. With countless out standing auto motive applications over the years from standard factory issue carburetors found on cars like Ferrari and other exotics, to full out champion race cars from many decades in all types of racing.
New Lower Price !
!!
Weber 40 mm DCOE
single side draft carburetor $432.00 each.
New Lower Price !
!!
Weber 45 mm DCOE
single side draft carburetor $432.00 each.
---
18RG Spark Plug Wires

Quality High Performance Wires, 8 mm Thickness

These wires can handle up to 150,000 V

Price $302.50
---
NEW!!!
18RG Distributor Cap and Rotor Kit.
Price $36.20
---
NEW!!!
18RG Distributor
Price
$170.00
---
NEVER CHANGE POINTS AGAIN!!!
18RG Distributor Ignition Points to Electronic Conversion Kit
Saves gas and extends the life of your spark plugs. Come with a magnetic pick up you screw inside the distributor.
This kit eliminates the unreliable points that ware and constantly change the ignition timing. With this kit you just set it and forget it!!!!
Its is easier to install than as a set of points but you only do it once! Entire ignition system fits beneath distributor cap to maintain original look.
No alteration to distributor required.
You can use a stock ignition coil with this kit but to get the most power from this kit we highly recommend to
upgrade to the Flame Thorougher Coil listed below.
Price $136.00
---

18RG High Performance Ignition Coil
The

F
lame-Thrower II
coils feature a super low resistance. They will work with just about any high output ignition system.
Low resistance and improved turns ratio help to produce up to
45,000 volts.
This higher voltage enables you to run larger spark plug gaps for added power and better fuel economy.
Features
45,000 volts
Available chrome plated or black for that "stock look".
For use with inductive or CD ignition systems.
Super low 0.6 Ohm primary resistance.
Legal in all 50 states and Canada. (C.A.R.B. E.O. #D-57-10)
Warranty: 90 Days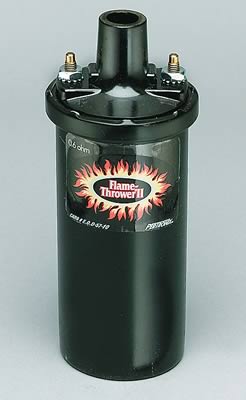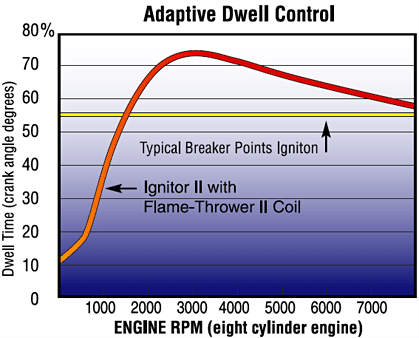 Price $67.35
---
18RG Thermostat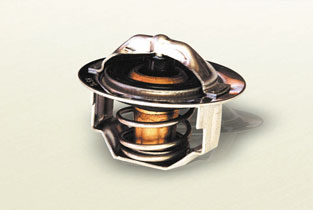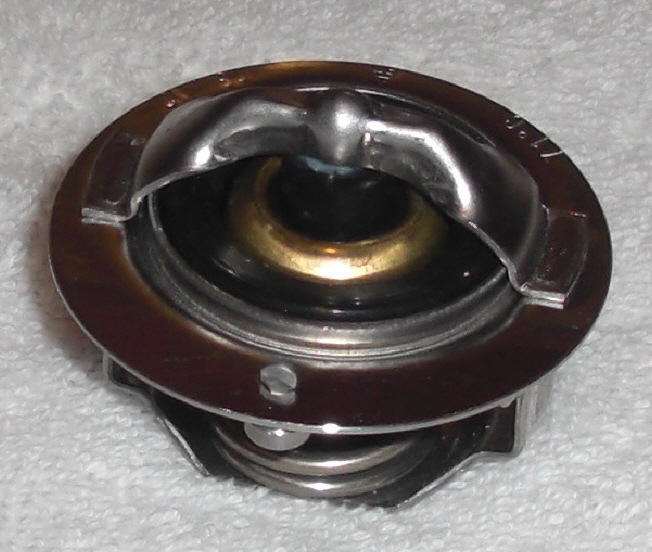 Born from racing technology!
71 Degrees Celsius Low Temp Stainless Thermostat
What is the optimum temperature to get the most power from the engine?
Different parts of the engine are at various coolant temperatures. For example, the temp gauge is reading at 80 degrees Celsius but at the back of the motor, it is between 85 and 90 degrees Celsius, which means it is detonating. The perfect temperature for optimum performance is the temperature right before detonation, measured at the cylinder. However, in order to achieve this temperature, it is absolutely necessary to have good cooling efficiency and a low temperature thermostat. The thermostat opens the valve at 71 degrees Celsius and allows the coolant to flow earlier to prevent overheating and bring out the maximum performance from the motor.
Price
$89.25
---
PERFORMANCE RADIATOR CAP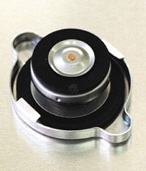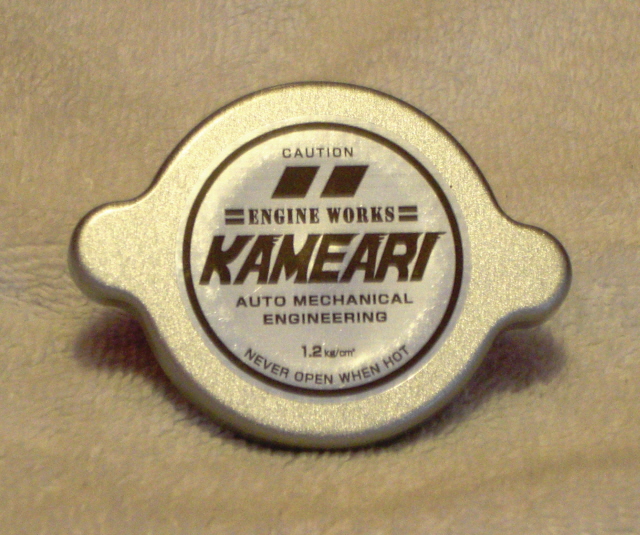 This radiator cap has an upgraded 1.2kg/cm (12 lbs.) pressure valve spring, so that the maximum cooling potential is achieved from the radiator. For example, even though the coolant temperature is climbing over 100 degrees Celsius and the internal pressure of the radiator is high, the coolant will not boil over.
This radiator cap is good protection against overheating because stock will only hold up to 0.9kg/cm ( 8 lbs ) of pressure and the coolant will boil over at 125 degree Celsius.
Price
$45.00
---
<Back to 71-77 Celica page
< Back to Toyhead Auto Home Page